St. Philp has worked closely with Refugee Hope Partners to assess the needs of the Cedar Point Community and respond with targeted collections based on those needs.  The types of items we collect vary, but typically include winter coats, sports shoes, computers, and school supplies.
In addition, we have relationships with other area ministries where we can help facilitate fulfillment of other necessities.  Keep an eye out to see how we can help our neighbors!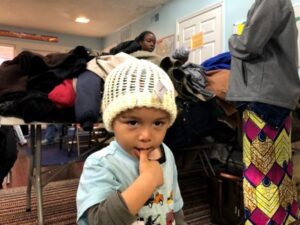 Diaper Ministry
WIC and Food Stamp programs do not cover diapers.
Diapers can cost a family $100 month per child.
1 in 3 parents has had to choose between buying diapers and food.
Without diapers babies cannot attend daycare or participate in early childhood education.
Those of you who have built relationships with the folks we serve through Brown Bag Ministry and Abundance Ministry know that diapers are a big deal to the families we serve!  The good news is that we have partnered with The Diaper Bank of NC  to supply diapers on a monthly basis! Together we can do something tangible for families that are struggling at the moment! 
Come be a part of solution!  We will hand out the diapers on the 4th Saturdays of Brown Bag Ministry.  Questions? Contact Stacey Bell.