St Philip Lutheran Preschool has an exceptional staff of dedicated and caring teachers. All of our lead teachers have degrees in early childhood or elementary education with appropriate certifications. We celebrate the longevity of our staff with several members of our staff exceeding 15 years at the preschool!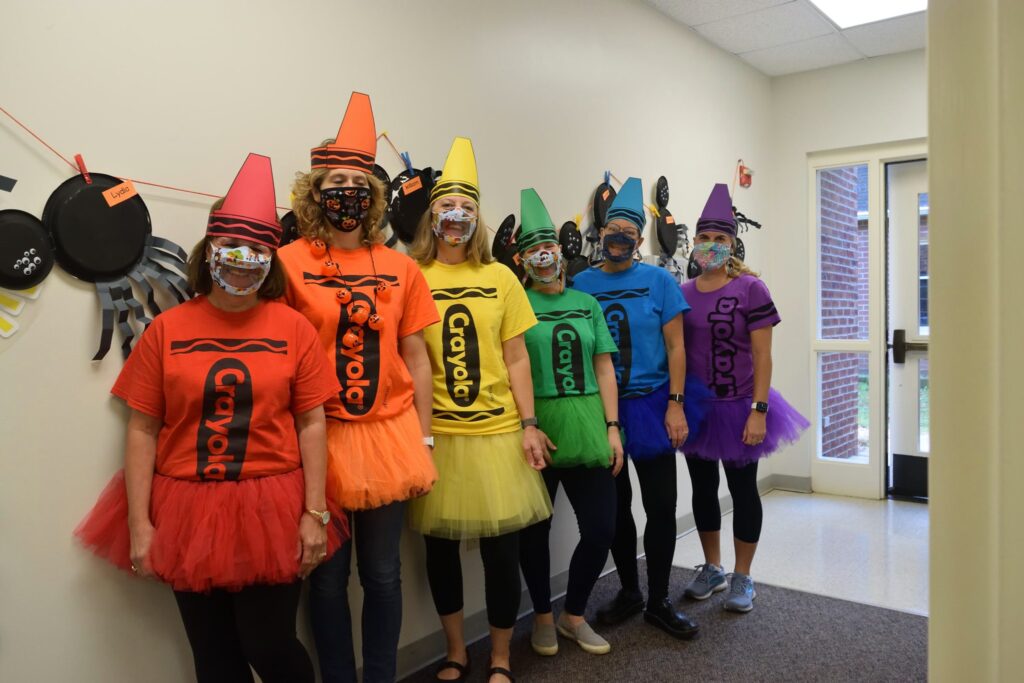 Leigh Anne Barham, Director

Miss Leigh Anne Barham grew up in Raleigh and graduated from Meredith College with a Bachelor of Science in Child Development. She taught kindergarten in Wake County Schools for 3 years until the birth of her daughter. Miss Leigh Anne began working as a teacher at St. Philip Preschool in 1994. She is married with two children, both of whom attended St. Philip. She enjoys being a proud "Nana" to her two precious grandchildren!

Miss Leigh Anne now makes Wake Forest her home. She enjoys spending time with her family, the annual Foil and Barham family beach trips and watching sports, especially NCSU! Miss Leigh Anne truly LOVES teaching. She enjoys the BIG hugs, smiles, laughs and watching the children grow and learn as well as developing wonderful relationships with parents. She is truly blessed to have St. Philip Preschool in her life.
Corinne Alavi

Miss Corinne Alavi is a North Carolina native. She attended St. Mary's Colllege then North Carolina State University.

Miss Corinne found her passion for working with children she joined a preschool staff in 2009. Working with children and helping them grow socially, spiritually, and mentally brings her joy.

Miss Corinne also loves spending time with her husband and three children. On the weekends you will find them hiking or skiing in the mountains or sunning at the beach.
Shannon Beckstrand

Miss Shannon Beckstrand has lived in may different states including Georgia, Idaho, Alabama, and Utah. She graduated with a degree in teaching from Utah State University. Miss Shannon has taught a variety of grade levels as well as Early Intervention for children who are deaf or hard of hearing.

Miss Shannon is married and has two children, one of them a former student of St. Philip. Her faith in God and the love for His children brought her to the St. Philip family.
Christine Boucher

Miss Christine Boucher is originally from California where she earned her Master's in education from Santa Clara University. she has spent 20+ years
in education with 14 of those as an elementary school teacher.

Miss Christine is married with two children, one of them attended St. Philip. She has worked as a substitute teacher at the preschool since 2018 and joined St. Philip Preschool as a lead teacher in 2019. She enjoys working out, children's picture books, gardening with her family, and backing.
Krissy Caro

Miss Krissy Caro grew up in Northern Virginia and graduated from Marymount University in Arlington. She is married and has three children.

Miss Krissy has worked in the preschool environment since 2006, joining
St. Philip in 2012. She works well with all age groups. She enjoys seeing the children grow and develop throughout the school year. She greatly appreciates the opportunity to nurture young children in this vital stage of their development.

Miss Krissy loves to stay physically fit. She likes running, swimming, and taking classes at the local Y. She also enjoys baking and reading in her spare time. Miss Krissy loves spending time with her family watching movies, grilling out and taking family trips to the beach.
Jennifer Hjersted

Miss Jennifer Hjersted was born and raised in Canada. She graduated from Tufts University with a MA in Art History. She has been a museum educator and docent at several museums, including the NCMA. She has two children, a son who is currently attending St. Philip and a daughter who is an alumni.

Miss Jenifer loves spending time outdoors with her family as well as running and baking. She is looking forward to a fun and enriching school year in the 3's program!
Michelle Hooks

Miss Michelle Hooks grew up in Illinois and attended Northern Illinois University, where she obtained a degree in Education. She moved to Raleigh in 1990 and worked for Wake County Public Schools until the birth of her first child. She began working as a teacher at St. Philip in 2007 and compares her job to Disney World – the happiest place on earth.

Miss Michelle is married, has 3 children of her own, all of whom attended St. Philip Preschool.
Janssel Hoye

Miss Janssel Hoye was born and raised in the Philippines where she graduated with a degree in Multimedia Arts and worked for the first 4 years of her career as a Graphic Artist before moving to the US to marry her husband in 2013. She has worked part time at the preschool as a substitute teacher since 2014 and joined the St Philip Preschool staff in 2017 working as a helping teacher with 2 year olds. In her spare time she is also a freelance artist.
Allison Lewis

Miss Allison Lewis is originally from Pennsylvania. She has taught a variety of grade levels for nearly 20 years. She earned her Master's degree and is a National Board Certified Teacher.

Miss Allison has two very active children. She loves traveling with her family, gardening, exercising, reading, cooking and eating!
Melissa Mills

Miss Melissa Mills was born and raised in Charlotte, NC. She attended Meredith College and Peace College. Miss Melissa and husband Danny have two boys that also attended St. Philip. She is a Sunday school teacher and is very active in her church. She has been part of the St. Philip Preschool staff since 2014.

Miss Melissa and hubby Danny have two boys that also attended St. Philip. She is a Sunday School Teacher and is very active in her church.
Liza Ogden

Miss Liza Ogden grew up in Georgia and graduated from Auburn University in 1996 with a Bachelor of Science in Education. Miss Liza has been teaching at St. Philip since 2006! She really enjoys working with children. She has so much fun teaching them and watching them learn through socialization, and imaginative play throughout a structured day. She finds it so rewarding to see the children grow throughout the year in this wonderful preschool setting. She also really loves getting to know the parents and families.

Miss Liza is married with 2 children who both attended St. Philip's. She enjoys spending time with her family, her friends, organizing her home, and playing and reading with her kids. She also enjoys travelling with her family and especially watching Auburn football!
Stephanie Pusateri

Miss Stephanie Pusateri is the assistant teacher in our kindergarten class. She has also worked with the 2 year and 4 year old classes. She began working at the preschool in 2005.

Miss Stephanie is married and has two sons both whom attended St. Philip. She loves to work at St. Philip and considers it a blessing to be there.