Rev. Timothy Poston

Pastor Tim Poston  began his call at St. Philip on January 1, 2020.
After  graduating from Garner Senior High School, Pastor Tim graduated from Davidson College with a Bachelor of Arts in Religion, followed by Yale Divinity School with a Master of Arts in Religion (in Historical Theology), and the Lutheran Theological Seminary in Philadelphia with a Master of Divinity.  He served his year of internship at Genesis Lutheran Church in Detroit, MI.
Pastor Tim served as the Pastor/Redeveloper of Mediator Lutheran Church in Philadelphia, PA; as Pastor of Holy Cross Lutheran Church in Hiram, GA (outside Atlanta); and as Pastor/Mission Developer of Joy of Discovery Lutheran Mission in Raleigh, NC. He also served a year-long C.P.E. (Clinical Pastoral Education) internship — as a hospital chaplain — for Emory University Healthcare in Atlanta, GA.
Pastor Tim has served in many capacities throughout the larger church: he has served on Synod Council (for the Southeastern PA Synod), as the Dean of the Central Philadelphia Conference, and was elected to ELCA Church-Wide Assembly three times. He has served on the Yale Divinity School Alumni Board, the Urban Theological Institute Committee of Advisors at LTSP, and as Adjunct Faculty at LTSP. He has served on the Lutheran Settlement House board (in Philadelphia), has served as the Field Education site supervisor for 11 ELCA seminarians who are now ordained pastors, and currently serves on the ELCA's Spiritual Renewal Team, which calls on him to preach revivals around the country. He serves currently on the NC Synod's African Descent Strategy Team and Committee on Discipline. In Raleigh, he has lead worship services at the NC Women's Prison, the Tammy Lynn Center for Developmental Disabilities, and St. Augustine's University on a regular basis.
He has two sons who are the apple of his eye: Grant and Tristan.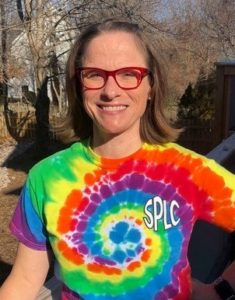 Cathryn Hewett

I have been privileged to serve alongside the children and youth, currently focusing on high school youth, here at St. Philip for nearly 9 years. Youth are an extremely important part of the Body of Christ and I feel strongly called to encourage youth in finding their spiritual gifts and in understand their value in the Body. In so doing I am energized by their gifts, their ideas, and their willingness to let me join them on their faith journeys and to be a part of my own. I am so blessed to see youth grow in their leadership, confidence, and faith!
I am child of God, a wife, and mother of two.  I enjoy riding horses in my free time, as well as hanging out with my dog, 2 cats as well. You may find me posing as a musician playing guitar/bass in the Crossing worship service.  And, as a graduate of N.C. State I am a Wolfpack fan through and through.  I am a questioner and wonderer and I invite all of God's children, of every age, to jump in to explore together the faith walk God has set before us!
Jane Gue

It is my strongest desire to use my skills in work that serves Jesus Christ and supports His Church in the work of taking His love into the world. My life's journey has prepared me in numerous ways to be able to successfully support the Minister, Ministry Leaders, Members and Staff here at St. Philip. Being raised in a Methodist Minister's family, I am aware of the special sort of support that is required that assists the Pastors to meet the ongoing demands of their time – that goes beyond the typical set of office administrative skills.
As an active member of my church I have served in ministry leadership positions such as a DivorceCare Leader, Bible Study Groups, and as a Stephen Minister. In addition,  I've been active in the music and youth ministries.
I have one adult son Evin, who lives, works and plays in southern Wake County. We are blessed to have a close relationship and enjoy spending time together and with our family – my sister & family and my parents all live in Wake Forest.  Although I'm from northern New Jersey, my hometown has been Fuquay Varina since 1992.
I'm active in a community coalition as the Executive Site Coordinator in Fuquay Varina having worked with them since 2002, at all sorts of community issues along with law enforcement and lots of partnering churches, agencies and civic groups. Currently we are working to prevent underage drinking as part of a state wide task force.
Regan Wang

"Hello everyone! My name is Regan Chuhran Wang. I am a native of Detroit, Michigan with a Bachelor's in Instrumental Music Education from the University of Michigan. I am currently the Director of Bands and Orchestras at West Millbrook Middle School here in North Raleigh.
As a child, my family had a studio in our house where my mother taught piano lessons. When I turned four, she began to teach me. I also grew up attending an ELCA Lutheran church where my mother was the music director. Because of this, I grew up singing in church choirs, playing with the handbell choir, and performing special music in my church. When I was in high school, the organist at my church retired and everyone turned to me to take over ("piano and organ are pretty much the same, right?"). With two lessons on the organ, I played my first service. I ended up loving the organ and continued to play and study throughout college and beyond.
One of the first things I did when I moved to Raleigh was begin searching for a Lutheran church to serve. I am so fortunate to have found such a warm, welcoming new church at St. Philip. I hope you will enjoy the music I bring to your services as much as I will enjoy playing it!"
Bob Petters

Bob Petters, after receiving a BA. of Music from the Lawrence Conservatory of Music in Appleton, Wisconsin, taught bands, choirs, and orchestras in public schools in Michigan, Minnesota, and Wisconsin.  After attending graduate school at the University of Michigan, he joined the U. of Michigan School of Music as an Assistant Professor in the Conducting and Music Education departments.
He then came to North Carolina State University to conduct the orchestra, a concert band, and teach classes.  He served as the Music Department chair before retiring so he could go back to teaching.  He has conducted church choirs in Michigan, Wisconsin, and North Carolina.
He is currently the conductor of the Really Terrible Orchestra of the Triangle.