2022 Season is here! Everyone is invited to join the team!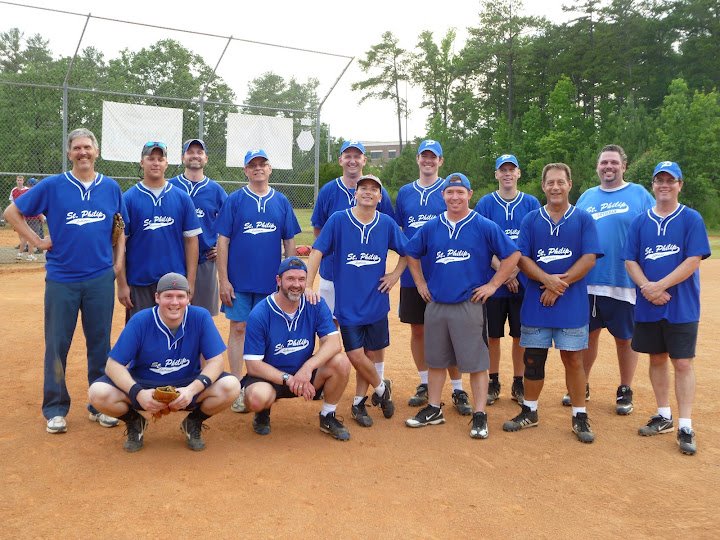 St. Philip fields a team in the North Raleigh Mixed Softball League, which is run by Bay Leaf Baptist Church. The softball team serves as a wonderful means of fellowship and fun during the summer.
We play once or twice a week during the season, including a single-elimination tournament. All persons of at least 14 years of age are welcome to play.
For more information about the league or St. Philip's team, contact Mike Davis.
2022 Schedule
Date
Away
Home
Venue
11-Apr
Christian Ministries
vs.
Bayleaf
Bay Leaf
12-Apr
St. Philip
vs.
Friendship
Bay Leaf
12-Apr
Southbridge
vs.
Asbury
Mill XC
14-Apr
Nativity
vs.
Mt Vernon
Bayleaf
18-Apr
Bayleaf
vs.
Chapel
Bay Leaf
19-Apr
Mt. Vernon
vs.
Southbridge
Bay Leaf
19-Apr
Asbury
vs.
NR Pres
Mill XC
21-Apr
Nativity
vs.
Christian Ministries
Bayleaf
25-Apr
Southbridge
vs.
St. Philip
Bay Leaf
26-Apr
Chapel
vs.
Asbury
Bay Leaf
26-Apr
Friendship
vs.
Bayleaf
Mill XC
28-Apr
Christian Ministries
vs.
NR Pres
Bayleaf
2-May
Chapel
vs.
Southbridge
Bay Leaf
3-May
Mt Vernon
vs.
Friendship
Bay Leaf
3-May
NR Pres
vs.
Nativity
Mill XC
5-May
St. Philip
vs.
Asbury
Bayleaf
9-May
Friendship
vs.
Christian Ministries
Bay Leaf
10-May
Bayleaf
vs.
St. Philip
Bay Leaf
10-May
NR Pres
vs.
Mt Vernon
Mill XC
12-May
Nativity
vs.
Chapel
Bayleaf
16-May
Bayleaf
vs.
Southbridge
Bay Leaf
17-May
Friendship
vs.
Chapel
Bay Leaf
17-May
Asbury
vs.
Nativity
Mill XC
19-May
Christian Ministries
vs.
Mt Vernon
Bayleaf
23-May
Asbury
vs.
Christian Ministries
Bay Leaf
24-May
Southbridge
vs.
NR Pres
Bay Leaf
24-May
Mt. Vernon
vs.
Bayleaf
Mill XC
26-May
St. Philip
vs.
Nativity
Bayleaf
30-May
HOLIDAY
Bay Leaf
31-May
MAKE UP
vs.
MAKE UP
Bay Leaf
2-Jun
MAKE UP
vs.
MAKE UP
Bay Leaf
6-Jun
MAKE UP
vs.
MAKE UP
Bay Leaf
7-Jun
MAKE UP
vs.
MAKE UP
Bay Leaf
9-Jun
MAKE UP
vs.
MAKE UP
Bay Leaf
13-Jun
Chapel
vs.
St. Philip
Bay Leaf
14-Jun
Nativity
vs.
Friendship
Bay Leaf
15-Jun
Bayleaf
vs.
NR Pres
Bay Leaf
20-Jun
NR Pres
vs.
Chapel
Bay Leaf
21-Jun
Friendship
vs.
Asbury
Bay Leaf
23-Jun
St. Philip
vs.
Mt. Vernon
Bay Leaf
27-Jun
Southbridge
vs.
Christian Ministries
Bay Leaf
28-Jun
MAKE UP
vs.
MAKE UP
Bay Leaf
30-Jun
MAKE UP
vs.
MAKE UP
Bay Leaf
4-Jul
HOLIDAY
Bay Leaf
5-Jul
MAKE UP
vs.
MAKE UP
Bay Leaf
7-Jul
MAKE UP
vs.
MAKE UP
Bay Leaf
11-Jul
MAKE UP
vs.
MAKE UP
Bay Leaf
12-Jul
MAKE UP
vs.
MAKE UP
Bay Leaf
14-Jul
MAKE UP
vs.
MAKE UP
Bay Leaf
Bay Leaf Baptist Church is located at 12200 Bayleaf Church Road
Millbrook Exchange Park is located at 1905 Spring Forest Road
Friendship Baptist Church is located at 5510 Falls of Neuse Road