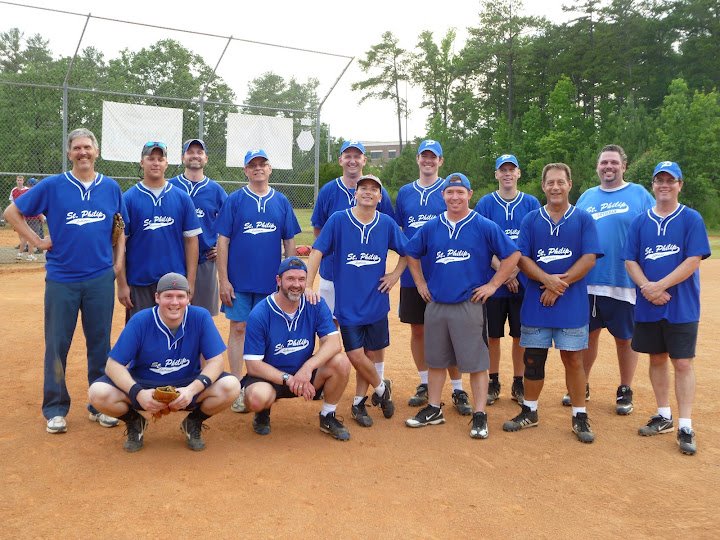 St. Philip fields a team in the North Raleigh Men's Softball League (maybe soon to be become the North Raleigh Mixed Softball League), which is run by Bay Leaf Baptist Church. The softball team serves as a wonderful means of fellowship and fun during the summer.
We play once or twice a week during the season, which typically begins in mid-April and ends in late July (including a single-elimination tournament). All men of at least 14 years of age are welcome to play.
For more information about the league or St. Philip's team, contact Mike Davis.
2019 Schedule
2019 North Raleigh Men's Softball Schedule – St Philip

*Games start at 6:30*
Directions Below

Date
Away
Home
Venue
16-Apr
St Philip
vs.
Asbury
Bay Leaf
23-Apr
St Philip
vs.
North Raleigh Presbyterian
Bay Leaf
7-May
Friendship
vs.
St Philip
Bay Leaf
14-May
Bay Leaf
vs.
St Philip
Bay Leaf
23-May
St Philip
vs.
Mt Vernon
Bay Leaf
27-May
Memorial Day
No Games
4-Jun
Asbury
vs.
St Philip
Bay Leaf
18-Jun
St Philip
vs.
Friendship
Friendship
27-Jun
Nativity
vs.
St. Philip
Bay Leaf
1-Jul
St.Philip
vs.
Nativity
Bay Leaf
Tournament
BYE
Seed 1
Bay Leaf
8-Jul
St Philip
Bay Leaf
Bay Leaf
9-Jul
Seed 6
Seed 3
Bay Leaf
11-Jul
Seed 5
Seed 4
Bay Leaf
15-Jul
Seed 5-4 winner
Seed 1
Bay Leaf
16-Jul
Seed 6-3 winner
Seed 7-2 winner
Bay Leaf
18-Jul
Championship
Bay Leaf
Locations
Bay Leaf Baptist is north of I 540 off Possum Track Trail off Six Forks.
Friendship Baptist Church is located at 5510 Falls of Neuse Road
2019 Season Summary
St. Philip entered the end of season single elimination tournament as the #7 seed. In the sweltering July evening heat, our team played a good game against Bay Leaf Baptist, but did not advance into the second round. Despite the loss in the first round, it was a good season for the 'boys in blue'. Joining our veterans this year were several new faces and two younger men, Brennan Davis joined his dad, Coach Mike Davis, and Jake Gibson joined his dad, Steve Gibson. It was great to have two father-son duos – we appreciated the young legs, good arms and solid hitting. More importantly, the fellowship and camaraderie on our team was excellent. Going into 2020, consideration is being given to becoming a mixed league. It would be great to see some women join the 'folks in blue'. We look forward to the 2020 campaign.