St. Philip is blessed with an abundance of musical talent that is used to enhance worship services with choirs, brass, hand bells, solos, organ, guitars, piano, and other varied musical offerings.  Our children and adult choir groups participate in worship services on a regular basis. Two adult choirs add leadership and anthems to our vocal praise.Our music groups meet regularly from September through May.  During the summer months, people are encouraged to share their God given talents by doing vocal or instrumental solos, duets, or small group offerings that can be scheduled with the Music Director Stephanie Rodelander usmcmama@aol.com.
All are invited to be involved in glorifying God through music. No talent is too small.
Experience Music Program (0-3 years)
Even the youngest of God's children can participate and experience the blessings of music at St. Philip. Children and their parents are invited to participate in the music program on Wednesday nights from September through May. The group meets on Wednesdays 6:45 p.m. – 7:30 p.m. in the Narthex and are led by member Sonja Noykos, a Registered Music Together Teacher and the owner and director of Joyful Song Family Music. Sonja can be reached at sonjanoykos@gmail.com.
Cherub Choir (4 years – Kindergarten)
Our Cherub Choir offers music during worship services once a month. Practices are on Wednesdays from 6:45 p.m. – 7:30 p.m. in Kepley Hall from September through May. Our Cehrub Choir Director is Brian Kindl btkindl@bellsouth.net and our Musical Accompanist is Allen Hewett fahewett2@yahoo.com.
Check out the Cherub Choir YouTube page to listen to songs for the Cherub Choir.
Children's Choir (1st – 5th grade)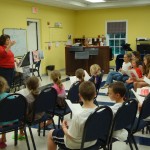 The Children's Choir sings a wide variety of songs and offers music at both services once or twice monthly.  Practices are on Wednesdays 6:45 p.m. – 7:30 p.m. in the music room September through May.  There is a monthly "birthday party".  Director Stephanie Rodelander usmcmama@aol.com
Young Disciples (6th – 12th grade)
The Young Disciples serve at all services once or twice monthly.  Often they serve at two services with breakfast served in between.  Practice is held in the music room immediately following the 11:00 am worship service on Sundays and lunch is served!  September through May.  Director Stephanie Rodelander usmcmama@aol.com
Chancel Choir
Adults and any brave high school students are welcome to join this group!  Practice is held on Wednesdays from 7:45 p.m. – 9:00 p.m. in the music room September through May.  Director Stephanie Rodelander usmcmama@aol.com